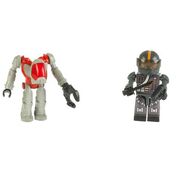 Pretend to take your mission to the sky! Build 2 fighter planes with the BATTLESHIP AIR ASSAULT Set and pit them against each other in an aerial battle between your Pilot and Alien KREON figures! Build your own firing weapons and put your KREON figures in the cockpits. With firing missiles, these awesome aircraft will "take to the air" for the fiercest dogfight ever!
Build 2 fighter planes! Build your own firing weapons! Opening cockpit fits one KREON figure! KREON figures come with weapons! Works with major building brands!
Includes 225-piece AIR ASSAULT building set, with Alien and Pilot KREON figures.
Ad blocker interference detected!
Wikia is a free-to-use site that makes money from advertising. We have a modified experience for viewers using ad blockers

Wikia is not accessible if you've made further modifications. Remove the custom ad blocker rule(s) and the page will load as expected.