thesis a new Kre-o line. currently exclusively to China. Not much is heard from this line. it came out sometime in 2015. There no sets listed or Priced at this point in time. All Hasbro said it is the only Remainder line that is left. at this point in time Kre-O is a EXLUSIVE to china. [1]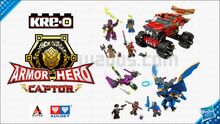 Ad blocker interference detected!
Wikia is a free-to-use site that makes money from advertising. We have a modified experience for viewers using ad blockers

Wikia is not accessible if you've made further modifications. Remove the custom ad blocker rule(s) and the page will load as expected.