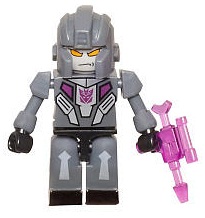 Barricade
is a
Kreon
included in the
Cycle Chase
building set.
Official bio
Edit
Hey punks! I'm BARRICADE, and if you know what's good for you, you'll shut yer traps and listen up. I'm the baddest there is anywhere, and I ain't afraid to pound a few suckers to prove it. You follow my orders, secure a little bit of ENERGON for me, and we'll get along just fine.
Hobby: Knocking over smaller KREONS.
Likes: Laughing at the pain of others.
Secret desire: To be taller.
Character Profile:
Barricade is a merciless and violent maniac who does whatever he wants, whenever he wants, wherever he wants! He thinks of himself as vastly superior to his fellow Decepticons and loves showing off. He is positively savage in his quest to acquire Energon to power his dark weaponry.
Ad blocker interference detected!
Wikia is a free-to-use site that makes money from advertising. We have a modified experience for viewers using ad blockers

Wikia is not accessible if you've made further modifications. Remove the custom ad blocker rule(s) and the page will load as expected.