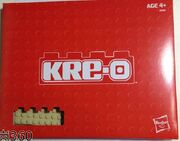 Baseplates are flat platforms with pegs that are suitable for attaching Kreons and Kre-O bricks. These baseplates come in varying colors and dimensions (such as 12 pegs x 8 pegs, etc...). An individually packed baseplate has been sighted suggesting that it will be available for purchase at retail. This baseplate has dimensions of 20x20 and is tan.
It has also now been rumored that this baseplate was exclusive to Toys R Us stores in Malaysia as part of a promotion for the Kre-O Dungeons & Dragons series where it was given away free with purchase.
Ad blocker interference detected!
Wikia is a free-to-use site that makes money from advertising. We have a modified experience for viewers using ad blockers

Wikia is not accessible if you've made further modifications. Remove the custom ad blocker rule(s) and the page will load as expected.