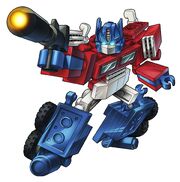 First revealed at San Diego Comic-Con 2014, Transformers Battle Changers are Kreon building sets that allow for transformation from deluxe Kreon mode to alternate mode, and back again without the need for disassembly and reassembly of parts.
Description
Edit
Build an awesome KREON figure in 1 of 2 modes with these sets based on classic TRANSFORMERS characters! You can use the pieces in these sets to build a KREON figure in robot mode, then convert the figure to vehicle mode without taking it apart! Choose from OPTIMUS PRIME, BUMBLEBEE, STARSCREAM and GRIMLOCK, each sold separately.
Ad blocker interference detected!
Wikia is a free-to-use site that makes money from advertising. We have a modified experience for viewers using ad blockers

Wikia is not accessible if you've made further modifications. Remove the custom ad blocker rule(s) and the page will load as expected.