Beachcomber
Edit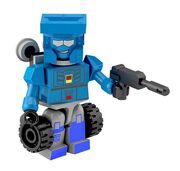 Beachcomber is an Autobot Kreon released in wave 3 of the Kreon Micro Changers series. Beachcomber is based upon his Generation 1 appearance where he served as part of a team of Minibots lead by Bumblebee.
Character Profile:
Beachcomber's motto is "Dude, chill!" As the Autobots' resident wanderer, he hopes that one day his colleagues will be able to put aside their differences with the Decepticons and move forward peacefully. Beachcomber may be a peaceful guy, but he's also a stinky one.
Ad blocker interference detected!
Wikia is a free-to-use site that makes money from advertising. We have a modified experience for viewers using ad blockers

Wikia is not accessible if you've made further modifications. Remove the custom ad blocker rule(s) and the page will load as expected.