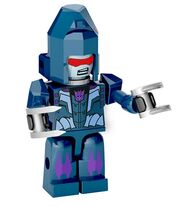 Blight is a Decepticon Kreon released in wave 2 of the Kreon Micro Changer series, based on the Generation 1 Transformers character Blot. 
Character Profile:
(Blight) is a dangerous force, not because he's a tough-as-nails fighting machine but because he smells absolutely horrible. Enemies take cover because they can smell him coming from a mile away. His friends have tried to get him to the car wash, but he says the spritz tickles him too much.
Notes: In the Kre-O Transformers Character Encyclopedia Blight is incorrectly referred to as "Bolt". For the purposes of this Wiki, the character profile has been adjusted accordingly.
Ad blocker interference detected!
Wikia is a free-to-use site that makes money from advertising. We have a modified experience for viewers using ad blockers

Wikia is not accessible if you've made further modifications. Remove the custom ad blocker rule(s) and the page will load as expected.