The
Bulldog
is an Autobot's best friend! A two-piece canine minifigure included in the Stealth Bumblebee construction set, the Bulldog would later become more notable for its appearances in the
Transformers Webcomic
.
Appearances
Edit
A reckless driver nearly ran the bulldog over as it walked along a crosswalk, but Bumblebee rescued him in the nick of time by Block Transforming the car into Mega-Bumblebee. Bumblebee adopted the stray pup, welcoming it home to the Autobot base.[1] The bulldog later appeared in its new master's arms, wearing a spiked collar.[2] When the Autobots and their allies started gushing over the cute new Predacons, the bulldog simply observed without any sign of emotion.[3]
Although the bulldog is sometimes identified by fans as "Bonecrusher" after the dog in the the live-action Revenge of the Fallen film (and bearing the same name in real life as director Michael Bay's pet), that dog is actually a mastiff.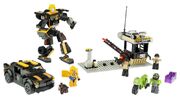 The bulldog minifigure included in the Stealth Bumblebee set wears a spiked collar, which it did not have in the Webcomic until its second appearance, suggesting that artist Hayato Sakamoto may have intended the collar to be a sign of Bumblebee's ownership of the dog.
References
Edit
Ad blocker interference detected!
Wikia is a free-to-use site that makes money from advertising. We have a modified experience for viewers using ad blockers

Wikia is not accessible if you've made further modifications. Remove the custom ad blocker rule(s) and the page will load as expected.