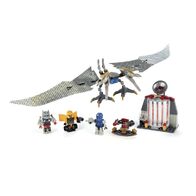 Cell Block Breakout
is a Kre-O building set released in 2014.
Product description from Hasbro website
Edit
Build your own dino-on-robot Transformers adventures with the Cell Block Breakout set! You can use the 135 pieces in this set to build a prison cell with a removable door, and a raging Strafe pterodactyl with powerful claws and a chomping jaw. Arm your KREON figures with their blasters, and send them into battle. Will your Bumblebee KREON figure be able to escape the pterodactyl's magnetic claw? Will your dino be able to dodge the anti-aircraft cannon? It's all up to you!
Set includes 135 pieces and instructions.
Product Features: ·Build a Transformers cell and dino with the 135 pieces in the Cell Block Breakout set ·Includes pieces for Bumblebee, Evasion Mode Optimus Prime and Vehicon KREON figures ·KREON figures are armed with blasters ·Trap KREON figures with the pterodactyl's magnetic claw ·Dino can rip the door off the prison cell
Ages 6 to 12 years Product does not convert.