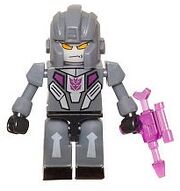 This awesome CYCLE CHASE set is your ticket to incredible TRANSFORMERS building action! Use the 77 pieces in the set to build a sidecar or a recon drone for the QUEST FOR ENERGON. Your heavily armed BARRICADE KREON figure is ready to take on your AUTOBOT
Trooper
KREON figures, and only you can build the vehicles they need! The sidecar's wheels make it a speedy getaway or attack vehicle, and you can equip the recon drone with plenty of firepower. Build and rebuild for the coolest TRANSFORMERS adventures yet!
Build a sidecar or a recon drone! Sidecar features a launching missile! KREON figures come with weapons. Set includes 1 piece of the DARK ENERGON weapon. Other sets (sold separately) include other DARK ENERGON pieces. Works with leading building brands!
Includes 77-piece CYCLE CHASE building set, with BARRICADE KREON figure and 3 AUTOBOT Trooper KREON figures.
Collect all 7 special pieces from exciting series of Kre-O Transformers from 2012, the "Quest for Energon" Building Sets. Combine all 7 special pieces to form the Dark Energon Weapon, The Quest Blaster!
Ad blocker interference detected!
Wikia is a free-to-use site that makes money from advertising. We have a modified experience for viewers using ad blockers

Wikia is not accessible if you've made further modifications. Remove the custom ad blocker rule(s) and the page will load as expected.