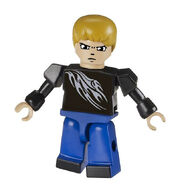 Driver is a Human Kreon included with the 2011 Sideswipe building set. Based upon this characters appearance, and the fact that a remarkably similar figure came included with Bumblebee suggests that this Human Kreon is intended to be Buster Witwicky, brother to Spike "Sam" Witwicky and uncle to Daniel Witwicky, though not excplicitly claimed.
Ad blocker interference detected!
Wikia is a free-to-use site that makes money from advertising. We have a modified experience for viewers using ad blockers

Wikia is not accessible if you've made further modifications. Remove the custom ad blocker rule(s) and the page will load as expected.