This Set Has Two Star+Ships To Build! #1= The Federation U.S.S. Enterprise 1701!, And A Klingon D7 Battle+Cruiser! This Set Has 717 Building Pieces! It Has Two Instruction Manuals And Three Stickers Sheets! There Our Eight Mini-Figures That Come With This Set! Three Of Which Our Klingon! The Others Our Captain Kirk, Sulu,Dr Mccoy, Checkov, And Spock! On The Enterprise Model It Is The Same Type Of Build As The Other Enterprise Set! ( I Checked Both Manuals/Yep The Same, Except For That This Set Has Extra Damage Stickers For Both Enterprise And D7 Battle+Cruiser)! The Enterprise Opens Up (Lifts Up) And Has Seats And Computer Consoles And A Pop Up View Screen, For Play! All Mini-Figure Can Fit Inside The Bridge Area! The Outside Has Three/Twin Phaser Banks! (Type-4 Or Type-5!) There Is Also A Forward Firing Photon Torpedo Launcher With Firing Torpedo/ Its On The Secondary Hull, Near The Engines! This Ships Has Lights And Sounds, But Require Three AAA Batteries To Operate! (Not Included)! The Klingon D7 Battle+Cruiser Has Two Flick Fire Missiles (Type-4 Disrupters I Think), One On Each Side Of The Ship, On The Warp Nacelles! The Back Of The Ship Features Two Opening Cockpits (One Front And One In Rear) To Fit All Three Klingon Mini-Figures! The Front Of The Ship Has A Light Up Photon Torpedo Display! (Does Not Fire)! These Ships Have great Detail! Very Cool Indeed! On The Box You See Three D7 Battle+Cruisers Battling The Enterprise! (The Kobiashi Maru Senerio+Maybe)! Just Got This Set For 26 US Dollars At Belles Outlet, Its So Cool For The Great Price/Yea Haw! That's About It! Now For The Picture! Borrowed It From The Internet!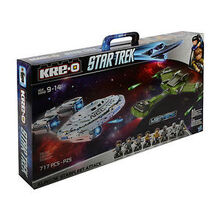 Ad blocker interference detected!
Wikia is a free-to-use site that makes money from advertising. We have a modified experience for viewers using ad blockers

Wikia is not accessible if you've made further modifications. Remove the custom ad blocker rule(s) and the page will load as expected.