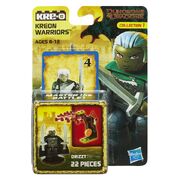 Kreon Warriors are individually-packaged
Kreons
that include blocks to assemble small scenes around them. Each represents a particular character from the history and fiction of Dungeons and Dragons; so far, all of them are from the fantasy continent of
Faerûn
in the
Forgotten Realms campaign setting
, and have backgrounds linking them to the city of
Neverwinter
.
Product Description
Edit
Man your battlefield with iconic DUNGEONS & DRAGONS characters in KREON form. Each pack includes one KREON figure with a KREON card, and key artifacts and accessories to build iconic DUNGEONS & DRAGONS story vignettes. There are 10 KREON WARRIORS to collect in 2014. Each pack sold separately. (Approximate Retail Price: $4.99 Ages: 7 & up; Pieces: 30; Available: January 2014)
Ad blocker interference detected!
Wikia is a free-to-use site that makes money from advertising. We have a modified experience for viewers using ad blockers

Wikia is not accessible if you've made further modifications. Remove the custom ad blocker rule(s) and the page will load as expected.