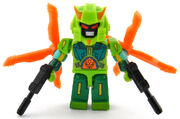 Machine Wars Kreon Souvenir Figure Set (Botcon 2013)
Consisting of Hoist , Megaplex , Obsidian , Skywarp , and Strika as part of the Botcon 2013 "Machine Wars Kreon Souvenir Figure" set, these kreon figures were pased upon figures from both the Machine Wars series, and the Beast Machines series. Only 1500 of these sets were made.
Ad blocker interference detected!
Wikia is a free-to-use site that makes money from advertising. We have a modified experience for viewers using ad blockers

Wikia is not accessible if you've made further modifications. Remove the custom ad blocker rule(s) and the page will load as expected.