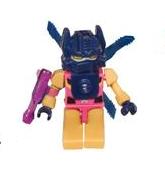 The Rotor Rage set is your ticket to incredible TRANSFORMERS building action! The 217 pieces in this set let you build an intimidating VORTEX figure as a robot, then tear him down to rebuild him as a helicopter in the QUEST FOR ENERGON! With the VORTEX and Commando KREON figures at his side and the ATV Driver KREON figure on his all-terrain vehicle, your VORTEX figure is bound to make trouble for his AUTOBOT enemies. Build and rebuild for the coolest TRANSFORMERS adventures!
Build a helicopter or robot! Helicopter features a turning rotor and grappling hooks! KREON figures come with weapons. Set includes 1 piece of the DARK ENERGON weapon. Other sets (sold separately) include other DARK ENERGON pieces. Works with leading building brands!
Includes 217-piece Rotor Rage building set, with VORTEX, Commando and ATV Driver KREON figures, and ATV vehicle.
The Vortex kreon was released in a different deco more fitting to his Generation 1 incarnation as part of the Micro Changer Combiner Decepticon Bruticus.
Collect all 7 special pieces from exciting series of Kre-O Transformers from 2012, the "Quest for Energon" Building Sets. Combine all 7 special pieces to form the Dark Energon Weapon, The Quest Blaster!
Ad blocker interference detected!
Wikia is a free-to-use site that makes money from advertising. We have a modified experience for viewers using ad blockers

Wikia is not accessible if you've made further modifications. Remove the custom ad blocker rule(s) and the page will load as expected.