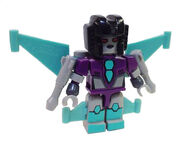 Slipstrike is a Decepticon Kreon released in Collection 4 of the Transformers Micro-Changers series, based on the character Slipstream. It should be noted that Slipstrike is mistakenly referred to as "Slipstike" on the side of the shelf display box found in stores. This typo is not found on any other media referencing this character.
Ad blocker interference detected!
Wikia is a free-to-use site that makes money from advertising. We have a modified experience for viewers using ad blockers

Wikia is not accessible if you've made further modifications. Remove the custom ad blocker rule(s) and the page will load as expected.