Street Showdown
Edit
The Street Showdown set comes with two building kits, one for Wheeljack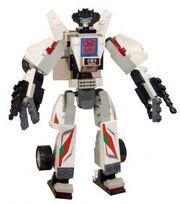 and one for Knock-Out, as well as 4 Kreon minifigures consisting of Wheeljack, Knock-Out, Green Driver (Wheeljack) and Gray Driver (Knock-Out).
Collect all 7 special pieces from exciting series of Kre-O Transformers from 2012, the "Quest for Energon" Building Sets. Combine all 7 special pieces to form the The Quest Blaster!
Autobot Command Center
Edit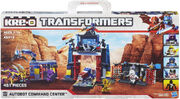 Knockout is a Decepticon Kreon released in the Autobot Command Center building set, based upon the characters appearance in Transformers:Prime, the set includes Kreons of 
Arcee
 , 
Bumblebee
 , 
Ratchet
 , 
Shockwave
 , and 
Knockout
 . (MSRP $49.99)
Ad blocker interference detected!
Wikia is a free-to-use site that makes money from advertising. We have a modified experience for viewers using ad blockers

Wikia is not accessible if you've made further modifications. Remove the custom ad blocker rule(s) and the page will load as expected.