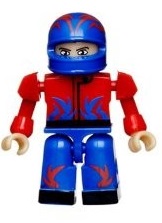 Stunt Driver was a Kreon minifigure that was included with the Optimus Prime building set in 2011. There are a total of two versions of this Kreon, one having colors reversed from the other, but are otherwise identical, both were included in the set. Although they share the same name and building set, it is assumed that they are inteded to be separate and distinct characters unto themselves.
Ad blocker interference detected!
Wikia is a free-to-use site that makes money from advertising. We have a modified experience for viewers using ad blockers

Wikia is not accessible if you've made further modifications. Remove the custom ad blocker rule(s) and the page will load as expected.