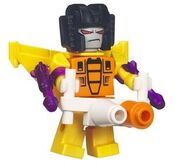 Sunstorm is a Decepticon Kreon released in preview wave of the Kreon Micro Changer series.
Official bio
Edit
I'm so hot, I'm on fire! No, really. I'm actually on fire. My fusion-fueled fury pulses out through my cyberalloy chassis and melts anyone who gets too close. Sure, I'm fast and powerful, but it gets lonely being so scorching.
Fondest wish: To get a hug from someone whose arms didn't immediately melt off.
Power source: Brick-powered fusion
Big plan: To learn how to chill

Character Profile:
Not only is Sunstorm's body hot to the touch, but he's got a blazing temper to match. Maybe it's because he's always leaking smelly toxic gases from his body. That could turn anyone into a hothead.
Ad blocker interference detected!
Wikia is a free-to-use site that makes money from advertising. We have a modified experience for viewers using ad blockers

Wikia is not accessible if you've made further modifications. Remove the custom ad blocker rule(s) and the page will load as expected.