Build the best G.I. Joe adventures with this awesome Kre-O G.I. Joe Playset - Thunderwave Jet Boat! Use the 226 pieces in this set to build a boat, a Sting Raider vehicle and a truck! Put your
Sgt. Stalker
Kreon figure at the controls of the Thunderwave Jet Boat, then let your
Lt. Cutter
Kreon figure drive the truck right into the rear deck of the boat. Will they be ready for your
Copperhead
Kreon figure's attack in the Sting Raider vehicle? Get the G.I. Joe battle going with this Thunderwave Jet Boat set!
The Kre-O G.I. Joe Playset - Thunderwave Jet Boat features:
Build 3 vehicles with this 226-piece Kre-O set!
Thunderwave Jet Boat, Sting Raider and truck vehicles!
Firing missile!
Boat has rotating turret and opening rear deck.
Store the truck in the rear deck!
Includes 3 Kreon figures!
Sgt. Stalker, Lt. Cutter and Copperhead figures come with weapons.
Building set works with major brands.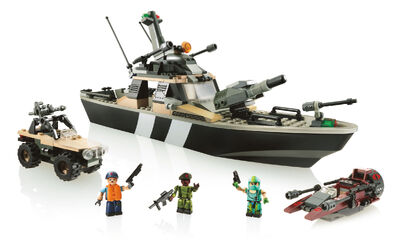 Ad blocker interference detected!
Wikia is a free-to-use site that makes money from advertising. We have a modified experience for viewers using ad blockers

Wikia is not accessible if you've made further modifications. Remove the custom ad blocker rule(s) and the page will load as expected.