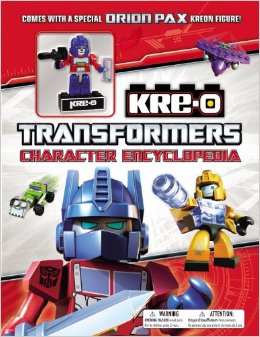 Released in 2014, this comprehensive guide includes an exclusive Kreon minifigure of Orion Pax available only with this book.
Although a valiant effort by the Author, the encyclopedia is very much an incomplete volume. Not listed are store exclusives, variants, convention exclusives as well as have much of its information incorrect concerning allegiances and names (Blot being called Bolt, Inferno listed as a Predacon). This however is easy to overlook as it does provide much useful information about the characters and the brand as a whole in a very organized and consise fashion. Definitely worth picking up. I wonder what exclusive Kreon will come with an updated 2nd edition printing? Only time will tell for sure.
Book Description
Edit
"Master your Transformers KRE-O knowledge with this ultimate encyclopedia! From the legendary Optimus Prime and the brave Bumblebee to the treacherous Starscream and the evil Predaking, this complete collector's guide to all the KRE-O figures is sure to short-circuit all Transformers fans. Includes special Orion Pax figure!"
Book Details
Edit
Age Range: 6 and up
Grade Level: 1 and up
Hardcover: 144 pages
Release Date: May 13, 2014
Publisher: LB Kids
Language: English
ISBN-10: 031627819X
ISBN-13: 978-0316278195
About the Author
Edit
Brandon T. Snider has authored the award winning Dark Knight Manual as seen in Entertainment Weekly, Time, Forbes and Wired. He's also written for Comedy Central and penned books featuring pop culture's most famous characters such as Superman, Spider-Man and The Muppets. His personal hero is Optimus Prime and he one day dreams of meeting the famous Autobot leader and having him sign his autograph book.
Character Profile information used from Kre-O Transformers Character Encyclopedia by Brandon T. Snider is for review and reference purposes only, as reflected in the U.S. Copyright Act of 1796. Please help support the Kre-O brand by purchasing the Kre-O Transformers Character Encyclopedia .The Kre-O Wiki exists in a reference capacity and makes no claims or inferrences of ownership of any kind for anything displayed in this Wiki.
Ad blocker interference detected!
Wikia is a free-to-use site that makes money from advertising. We have a modified experience for viewers using ad blockers

Wikia is not accessible if you've made further modifications. Remove the custom ad blocker rule(s) and the page will load as expected.