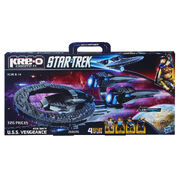 Released in fall 2013, the U.S.S. Vengeance building set is based upon the Dreadnaught class starship of the same name as seen in the film Star Trek: Into Darkness and includes an alternate uniform variant of the Scotty Kreon, as well as Admiral Marcus and the two Section 31 Helmsmen, to complete your Section 31 Crew (add. Sec.31 Members are in the regular Enterprise set).
Ad blocker interference detected!
Wikia is a free-to-use site that makes money from advertising. We have a modified experience for viewers using ad blockers

Wikia is not accessible if you've made further modifications. Remove the custom ad blocker rule(s) and the page will load as expected.