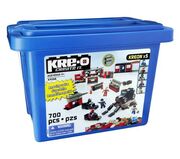 The Kre-O Ultimate Building Bucket contains 700 pieces to build things from ramps to motorcycles.
Though not marketed under the Transformers subline, it features human Kreons and other pieces which were previously released in the previously released Optimus Prime and Ratchet building sets.
The instructions for this set were not included with the bucket, however they were made available in pdf format on the Hasbro website.
Ad blocker interference detected!
Wikia is a free-to-use site that makes money from advertising. We have a modified experience for viewers using ad blockers

Wikia is not accessible if you've made further modifications. Remove the custom ad blocker rule(s) and the page will load as expected.