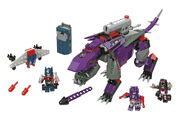 KRE-O TRANSFORMERS: ROBOTS IN DISGUISE UNDERBITE JET PACK TAKEDOWN Set (Ages 6 & up/Available: Spring 2015)
Build your own TRANSFORMERS ROBOTS IN DISGUISE adventures with this awesome KRE-O TRANSFORMERS construction set! You can use the KRE-O bricks to build the terrifying UNDERBITE DECEPTICON BEAST with claws, a chomping jaw and a powerful missile launcher, plus an OPTIMUS PRIME KREON with Jetpack and dual missile launchers. Comes with OPTIMUS PRIME KREON and DECEPTICON UNDERBITE and PED KREONS and one CAPTURE POD. Contains 189 pieces.
Ad blocker interference detected!
Wikia is a free-to-use site that makes money from advertising. We have a modified experience for viewers using ad blockers

Wikia is not accessible if you've made further modifications. Remove the custom ad blocker rule(s) and the page will load as expected.