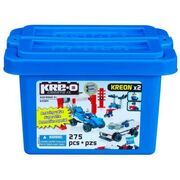 Released in 2013, this building set is a real bargain, containing 275 pieces to build a car, racecar, Prowl , Mirage , and more as well as including human Kreons previously released in the Optimus Prime and Mirage building sets. This set, while containing parts from the building sets for both Prowl and Mirage, does not advertise them anywhere on the package. Upon inspection it seems that one cannot accurately assemble either the Prowl or Mirage sets completely according to those sets instruction booklets as there are many parts that were not carried over into this set. The instructions for this set were not included with the bucket, however they were made available in pdf format on the Hasbro website. However due to a great variance in this sets pieces from those seen in this sets instructions, it is not possible to fully build the sets pictured according to the instructions.
Ad blocker interference detected!
Wikia is a free-to-use site that makes money from advertising. We have a modified experience for viewers using ad blockers

Wikia is not accessible if you've made further modifications. Remove the custom ad blocker rule(s) and the page will load as expected.